I am definitely not a bag person. By that, I mean someone who has a massive bag collection and rotates them all the time, the right bag for the right shoes and so on. In fact, I am quite the opposite. The function is more important than anything else, and when I find that one perfect bag that I can use every day, I pretty much stick to it until it falls apart. I usually try to buy leather bags that I know will last a very long time, quite big totes with loads of pockets that in a pinch can also double up to carry a few groceries if I forget my reusable bag.
However, as part of slowing down my sewing, I have been looking to diversify my projects and choose to make things that are a bit more fiddly and time-consuming, with more intricate pieces or more complicated techniques. So I decided to make my first attempt at a bag with proper hardware.
Because I had no idea where to start, I thought that a bag-making kit would be the right place for a beginner. I have heard of Niizo a few years ago from an old post by Lauren from Lladybird, where she tried another bag model they offer, a smaller day bag called Craftsmanship. However, I had my heart set on something bigger. This particular canvas bag has been on my wishlist for ages, but I was umming and erring for more than a year, as it's pretty expensive, if you include the postage from Taiwan. But I did a bit of saving and bit the bullet, so here we are with a show and tell and a review for anyone of you guys who might be interested in trying out a bag kit.
DISCLAIMER: This is not a sponsored post or ad. I have purchased all items featured, but it may contain affiliate links. Please read my Reader Disclosure Policy for what that means exactly.
Niizo are a company based in Taiwan with the mission to help people realise making bags is easier than they imagine. They offer bags, wallets and backpacks sewing patterns, as well as kits including all the materials and hardware to make any of their patterns, in various colour combinations. They sell through Etsy, where I purchased my kit from as well. They specialise in canvas products only (not leather or other types of fabric).
Here is my finished bag in the real world, on a day trip to Kingston upon Thames earlier in December.
Read on for all the details.
Waxed canvas tote bag kit
The kit took a few weeks to arrive, as it was coming from Taiwan, but once it got to me in the UK, I was very excited to open it. It was very nicely packed in paper, with each individual set of components (fabric, hardware and straps) separated to find them easier. The pattern was sent to me in digital format via email after the purchase.
This is what is contained in the kit: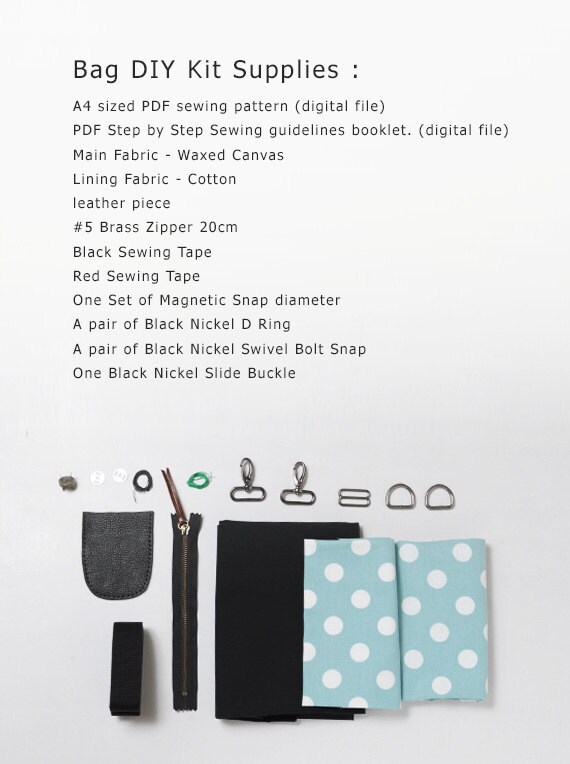 I chose the black outer canvas option, with a light blue polka dot lining (coincidently, like in the example above).
I was pleasantly surprised at the quality of the hardware, which for my kit were a nice polished dark metal, very expensive looking. The zipper is YKK. The fabric is also great, the waxed canvas is very solid and sturdy and the lining is organic cotton. Every single thing you might need to make this bag is included, even hand sewing needles and thread for the leather patch.
This was the first time I worked with waxed canvas and it was really great, it sews really well and presses great into place, even only just finger pressing will get you a nice line. The only complaint was that when turning it inside out, it wrinkles terribly and I had to do a lot of pressing to get it nice and flat.
Waxed canvas tote bag pattern
The pattern itself is PDF (N.B. there is not a printed pattern included with the kit) and it can also be purchased separately.
The pattern was designed in such a way that each element can be printed on a home A4 printer. However, that means that some segments have to be joined to form the final pattern piece. Also, some blocks need to be cut on the fold or even on the quarter to obtain the end result. So be sure to pay attention to the finished piece dimensions, which are mentioned in the pattern instructions.
PIN FOR LATER:
The instructions are fairly easy to follow and there are pictures for every step. I'm on the fence whether I prefer illustrations over pictures in general, but I think in this case it helped that the lining and main fabric were different colours in the pictures as well, so it was easier for me to figure what goes where. The other thing I fund a bit odd was that the previously sewn pieces were referred to as numbers, so something like 'join step 12 to step 6'. But in the end, I did not have major issues in understanding what goes where. I did have to look up a video of how to put together the slider on the strap, but once it clicks, it's really easy.
The overall level of difficulty is quite low, suitable for an adventurous beginner. If you have made regular lined tote bags and are familiar with the bagging process, it's really not hard at all. The zipper insertion is well explained and I don't think anyone who can sew a straight line should have a problem with this pattern.
The verdict on the waxed canvas tote bag
I absolutely love this bag. I have been using it almost exclusively since I made it at the end of October. Because of the adjustable strap, it can be worn both cross-body and on one shoulder, so it's very comfortable. I have been carrying my laptop and loads of other stuff and did not feel the weight as much as I usually do with my regular two strap leather tote.
Also, it's one of those bags that seems to be bigger on the inside than on the outside. I was a bit disappointed that it came out a bit smaller than I expected, but it can fit so much inside, it's actually perfect. For reference, the finished measurements are: 36 x 34 x 10 cm(14-1/ 4" x 13-3/ 8" x 3-7/ 8" ).
The two inside pockets are massive, a single one can fit my Kindle, wallet and phone. Also, I can fit my reusable cup and water bottle in it!
It also wears great. I have had it in heavy use since October and it does not show any signs of wear at all. It's even waterproof, which is nothing to sniff at in a city where it rains so much as it does in London.
Overall, I am really not sorry I spent the money on getting the kit. Sourcing the right hardware can be difficult and I think the quality of the ones included really justify the price. I am planning on making a few more of these as gifts, so I ordered some more hardware in the UK, and it was quite painful to find all the bits and pieces that actually match each other and the fabric I will be using. Especially the zipper, a YKKno.5 ancient brass was really hard to source. Please let me know if you know of any place in the UK that sell them.
Niizo Wax Canvas Tote Bag Summary
Pattern: Niizo wax canvas tote bag in PDF
Fabric: Niizo kit (waxed canvas outer and cotton fabric lining)
Trimms: from the kit (2 lobster clasps, 2 D rings, one slider, cotton strapping, magnetic closure)
Alterations: omitted the leather patch pocket
Next time: might make the inner pockets a bit smaller or make some kind of subdivision; also might add an interior zipper
---
HAVE YOU EVER MADE BAGS WITH HARDWARE? DO YOU FIND BAG MAKING DIFFICULT? WOULD YOU EVER BUY A BAG MAKING KIT (OR ANY OTHER TYPE OF SEWING KIT)? WOULD LOVE YOUR VIEWS AND OPINIONS IN THE COMMENTS.
ENJOYED THIS POST?