Style is one of the cornerstones of this blog, but for once, this post is not really about me. It's a celebration of a group of fabulous women with amazing style that inspire me on a regular basis. I almost titled this post 'my style muses' and the fact that I chose 9 ladies to showcase is not an accident. In fact, it's a nod to the goddesses of ancient times that influence all things creative.
When I first started sewing and discovered the online sewing community, bloggers like Erica Bunker and Nikki from Beaute J'adore were the first ones that, in my eyes, took sewing from making clothes to making fashion. I still follow and adore them, but I am so glad to discover more and more ladies with style, that appeal to how my own fashion sense has evolved over the years. And even if you might think some of the outfits I will feature are not quite me (definitely not in favour of a riot of colour over here in grey land), there is something unique that I want to emulate from each one of them. This can be designer fashion, pattern hacking, simple elegant style, the use of volumes and so much more.
But above all, they are some incredible women with fantastic sewing and life stories that can provide both fashion and life inspiration. I reached out to them to get a few personal quotes, but I really encourage you to visit their blogs and read their Instagram captions. Some incredible lived experiences and words of wisdom.
So, drum roll, let me introduce you my stylish sewist muses (in alphabetical order, so that no ones gets upset).
Alexis Bailey
WHO: Alexis is a sewer, influencer, Instagrammer and blogger based in Texas, US. She is interested in sustainability, handmade and slow sewing, and building a 'forever wardrobe'.
WHERE: You can find Alexis on her blog, https://therealalexisbailey.com/ and Instagram (@therealalexisbailey).
ONE COOL FACT: Alexis is just about to launch her new business venture, called Thimble and Snip. The business is a handsewing apparel kit that will be offering 4 sewing patterns from beginner to intermediate skill that can be sewn by hand. The patterns are to be announced this week. Launch day is September 15th. Alexis says: "The aim is to help beginners who are intimidated by machine sewing learn to sew and more advanced sewists be able to take their hobby with them".
WHY A MUSE: I discovered Alexis fairly recently, but I immediately fell in love with her style and the gorgeous photography (her husband is the artist that takes them). She describes her style as 'vintage vibes', but I think her minimalist slow sewing also appeals to me. Clean lines with a twist, completely up my alley!
I think this was the picture that did it for me:
Isn't this pure Vogue? The background, the hat, the tiered layers! Check out the tutorial here.
A few more awesome makes:
And she makes shoes too:
Dei Johnson (So Hot Mommi)
WHO: Dei (pronounced DEE) is a blogger and Instagramer based in Maryland. She has been an avid sewist for nearly 20 years, who is continuously learning. She told me: "I don't mind paging through my sewing library or studying online for new techniques and I'm definitely a graduate of Youtube University!".
WHERE: Dei's blog is Sew Hot Mommi and you can find her on Instagram @sewhotmommi
ONE COOL FACT: In Dei's own words: "I'm a Marylander, so that puts me near water and the beach is one of my favourite places to be. If I'm not sewing, I'm on the tennis courts or training, always with earbuds because audiobooks are my newest addiction". Also, Dei just got featured in Sewn Magazine, what a great editorial!
WHY A MUSE: When I saw the green dress below popping up in one of the hashtags I follow, I just had to stop in my tracks! I am obsessed with tiers this summer (and last summer, to be fair, ahem Mira no.3), and this dress, as well as the colour just spoke to me. But then I stalked Dei's grid and her blog and discovered an elegant style, with wonderfully put together pieces, perfectly sewn. Dei herself would describe her style 'casual classic chic' and I can only agree.
Here are some of my favourite pieces, but please go check her blog and IG out and let me know which others speak to you as well. Links in captions will take you to the respective posts on the blog. Also, make sure you also read the words, I love's Dei's sense of humour!
This dress!!!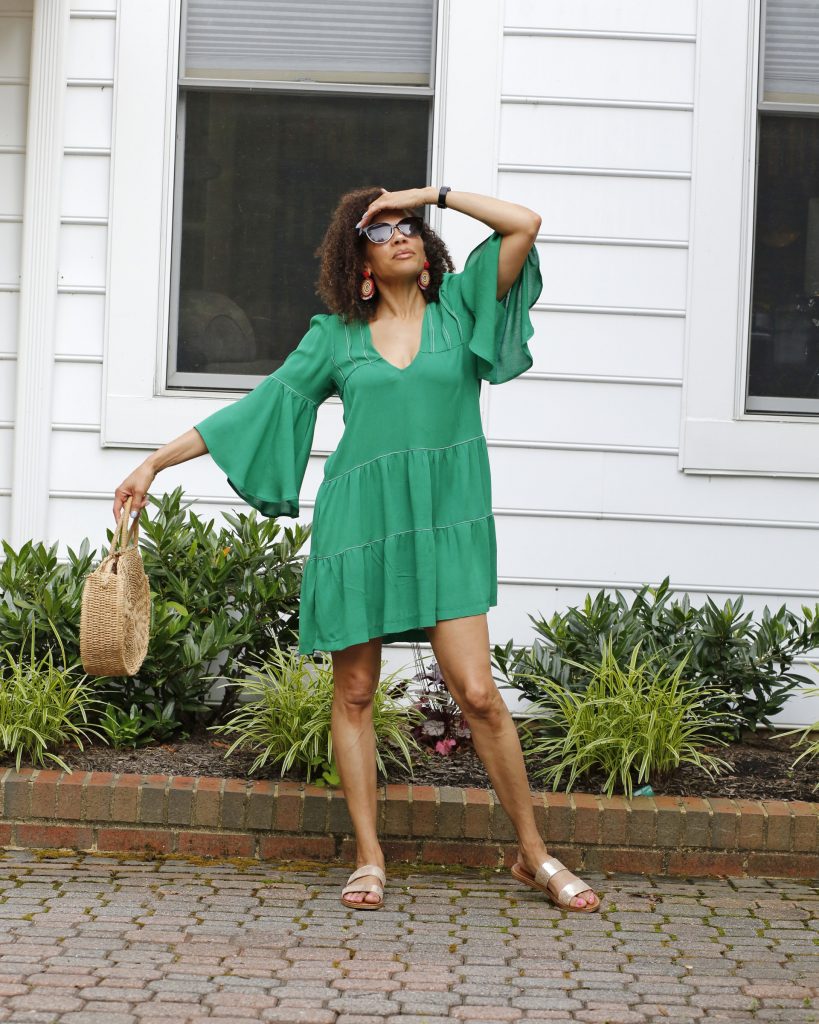 I love the simple elegance of this colour block dress!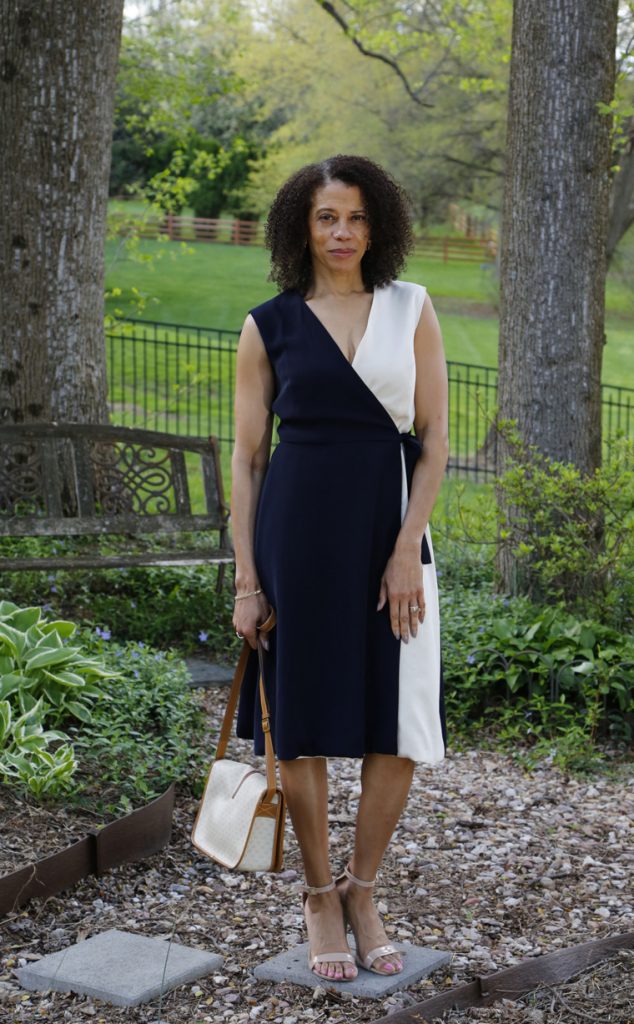 A super difficult project, the Iconic cape blazer. But how cool it turned out!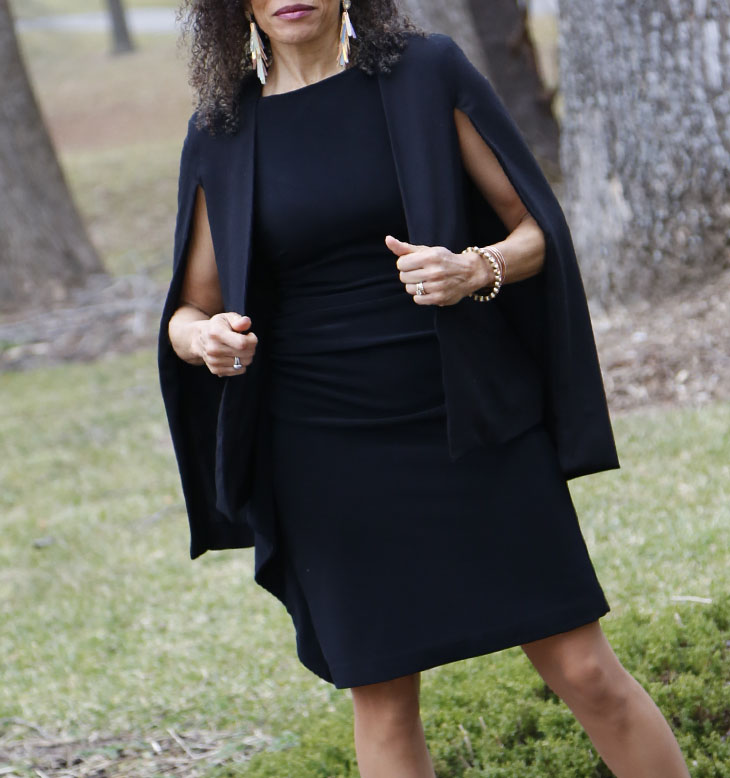 Marcia Spencer (Keechii B Style)
WHO: Marcia is a fashion + style blogger, sewist, designer, stylist, entrepreneur and mom. She is based in North Carolina. In her own words: 'I love to create and bring my visions to life. It's so fulfilling. It's a bonus to be able to inspire others to create and bring their visions to light'.
WHERE: You can find Marcia on her blog, keechiibags.com, and on Instagram (@keechiibstyle).
ONE COOL FACT: Marcia also designs unique bags that can be purchased on her website (same link as above).
WHY A MUSE: I sometimes get slightly worried at how borderline obsessed I get with Marcia's Instagram (not a stalker, promise!). I just can't wait to see what she will sew next! Marcia's style is very 70s influenced, but also modern and wearable. There is always something to find inspiration from, although my style is a bit more towards minimalism. Marcia's pictures are on point and her flair is just so incredible, and here are some examples!
This dress got me thinking about half-half colour-blocking and down a massive Pinterest rabbit hole. My own version inspired by the dress below coming soon.
Then there is the Black & White series… See link in caption and check out all the looks!
And this red dress – totally heart eyes!
How about this 70s perfection?
Marica Mitchell (heymaricamitchell)
WHO: Marica (pronounced Ma-ree-ka) is a mother, math educator, part-time sewing instructor, sewing and lifestyle blogger, with Jamaican roots and is based in South Florida. In her own words: "My passion is to touch lives whether in the classroom as an educator or inspiring someone to live in the moment and enjoy the beauty around us."
WHERE: You can find her on her blog, www.maricamitchell.com and on Instagram, @heymaricamitchell.
ONE COOL FACT: Marica is a thoroughly cool lady overall, but please go read this post where she is sharing her truth and story, in the context of racial injustice in America. Also, she is teaching both Maths AND sewing, how inspiring is that?
WHY A MUSE: I won't lie, before anything else, I fell in love with Marica's glasses! And then I discovered the rest of her fabulous riot of colour of a wardrobe! Scrolling through Marica's IG is like watching a beautiful fashion exhibition, all bright colours and amazing volumes. Not sure if I could pull that off, but she just rocks all the outfits! I also love that she gets creative with every bit of fabric and you will see many items that are made to match with her daughter (I've linked to a recap post below to see what I mean).
I don't even know where to start, but here are some of my favourites.
This outfit!!
I love this version of the Erica dress (designed by Erica Bunker).
Marica and her lovely daughter in mathching outfits:
Pauline K (So you think you can)
WHO: Pauline is a a homeschool mom of 3 who sews in her spare time, and also blogs and Instagrams. She is based in Northern California. She learned to sew when she was 7 years old. The reason in her own words: "I was very picky about what I wanted to wear so my mom, a professional seamstress, decided to teach me how to sew." She also told me: Putting my own interpretation on the patterns I sew has always been a constant in my sewing journey. I remembered sewing beads on an outfit I made to attend a wedding. When my kids were little I sewed on and off and seriously got back into it after we moved to California 8 years ago.
WHERE: Pauline's blog: Sew you think you can knock off and Instagram @sewuthinkucan
ONE COOL FACT: Pauline's blog is called Sew You Think You Can Knock Off, because a favorite passion of hers is using existing patterns to replicate expensive designers garments.
WHY A MUSE: Pauline's style might seem a bit understated compared to some of the other ladies featured, but don't be fooled, it's pure minimalist yumm! Her elegance is mostly practical and casual, but the flair comes through. And her sewing is on point! Like me, she is a massive stripes lover. She told me: Stripes are quite fascinating because you can manipulate and play around with them to create dramatic effects. I have been following Pauline for a long time and I was so happy to also get together in the Fibre Mood Secret Sewciety, check out her version of FM Mindy below!
Pauline loves the Zadie jumpsuit, I think she made 9 of them. Also, she has the best poses ever!
And here are the stripes: I remember this dress from Me-Made May 2019, so simple but so striking.
And more stripe-play. Do you see what Pauline was talking about?
Roberta (Made by Robi)
WHO: Roberta (or Robi) is a French sewer, designer and Instagramer of Nigerian descent, living in Monaco. She has a passion for fashion and design, but only started sewing a few years ago. She is a construction engineer by day, but she dreams of starting her own design business.
WHERE: You can find Robi on Instagram, @made.by.robi
ONE COOL FACT: Robi is a construction engineer by day, but she dreams of starting her own design business. She is taking order for made to measure outfits. She is also a feminist and an entrepreneur who believes in keeping true to oneself.
WHY A MUSE: It's a bit of a stereotype to say that French women have a certain 'je ne sais quoi', but when I first came across Robi's account, I was blown away, because she had that 'it' in spades! Robi loves Ankara (that's how I found her, via the Ankara appreciation week), but she also espouses a classic style. When I asked her to be part of this feature and she told me she has only been sewing for a few years, my jaw dropped!
I mean, judge for yourself.
Perhaps my favourite dress of them all!
A bit of cord, anyone?
So much fun!
Shun Davis
WHO: Shun (Shundra) Davis is a sewer blogger, vlogger and Instagramer. She is also a Technology Director, wow! Shun is based in Birmingham, Alabama.
WHERE: You can find Shun on her blog, Instagram and Youtube channel.
ONE COOL FACT: Shun has started and is running the Hands that Give Group. This is their mission: "Hands That Give" is committed to helping those in need through the use of our God given talent (Sewing). So far we have taken on initiatives to Help Girls and Boys in Port au Prince Haiti and the NYC Shelters by providing handmade clothing and other items. Our goal is to NOT stop there but to help children in need all around the World!
WHY A MUSE: Shun is probably the muse I have been following the longest, reading her blog first and then on Instagram. It all started with the dress below, that I actually found on Pinterest (can't even remember what I was looking for). And then I fell in love with all the things that Shun sews! Hope you will agree!
Please read this caption!
Shun is also the queen of jumpsuits!
And let me save my absolute favourite for last! WOW!
Sydney (sydneystyle_sewing)
WHO: Sydney is a self-taught sewist, who is based in Connecticut. She works as a manager and makes all her work clothes. She told me a bit more about herself: I started sewing 3 years ago. I decided to teach myself to sew for a few reasons, the first I wanted to find a meaningful hobby where I could learn a new skill that would not only benefit me but also my family. I started out by making curtains and pillows for my home and quickly fell in love with sewing! I am also a lover fashion but I always found many high-end brands often were overly priced for my budget. Also, I always had fit issues and would often take garments to my tailor. So I figured it would be a great opportunity to focus even more on my new hobby.
WHERE: You can find Sydney on Instagram @sydneystyle_sewing
ONE COOL FACT: In Sydney's own words: Once I began sewing I challenged myself to stop shopping because I knew if I continued that I'd likely wouldn't focus on sewing as much as I'd like. So to date, I haven't been shopping in 3 years, I haven't spent any money of RTW clothing. Almost 100% of my closet are garments that I made.
WHY A MUSE: I really wanted to feature experienced sewers as well as ones that have managed to develop an incredible wardrobe after a shorter sewing career! I love Sydney's colourful and elegant style. She is also a RTW faster, like me, so I love to see her hand-made wardrobe for all occasions, like holidays and more causal ones. Sydney also has this talent of turning vintage patterns into the most modern and striking outfist!
Here are a few of my favourites.
This dress is just amazing. Also, please read the caption.
Sydney is also a jumpsuit fan. This green one is gorgeous! Please note the front zipper, really cool way to sort the 'access' problem with jumpsuits.
Also this jacket!!
Sydney loves vintage patterns, but made modern with bold fabric choices, like this maxi dress made out of striped cotton shirting.
Sylvia (the Ravel Out)
WHO: Sylvia is a sewer and blogger originally from Ghana, now based in Calgary, Canada, who describes herself as 'a self-taught, colour obsessed sewing enthusiast'. By day, she works in the registrar office of a University. She is building a unique wardrobe by unravelling ideas and stitching them together, one stitch at a time. About her sewing journey, Sylvia tells me: "I started because I was job searching after graduating university and thought it was a good time to hop on to sewing. I was already obsessed with DIY blogs and videos so it wasn't a shocking transition. I job searched during the day, and sewed at night and I never stopped even after so landed a job".
WHERE: You can find Sylvia on her blog, https://www.theravelout.com/, and on Instagram, @theravelout.
ONE COOL FACT: Sylvia has travelled to 10 different countries (and worked/lived in 3 of those).
WHY A MUSE: I love Sylvia's style because she is hacker! She will take any pattern and turn into something else or give it a twist. And that's such a fun way to look at the world. I also love her colourful fabric choices and fun pairings. She describes her style as "classic with a fun twist".
Sylvia is another member of the Fibre Mood Secret Sewciety and she had some awesome makes in the last round, like the sunny side up Franca below.
This magenta stretch crepe is so elegant, but also joyful.
And speaking of hacks, check out this number (also see Sylvia's Highlights on IG for the process):
Such a versatile make (and loving the double styling options).
---
SAVE THIS FOR LATER ON PINTEREST
Wow, that was lot of inspiration all in one post! I can't wait to see what all of these fabulous sewists create next! I'm sure it will be colourful and stylish and definitely unique and exciting!
WHO ARE YOUR STYLE MUSES? ANY STYLISH SEWISTS YOU'D LIKE TO RECOMMEND TOO? PLEASE TELL ME IN COMMENTS!
ENJOYED THIS POST?